The Department of Music, University of Nigeria, started in 1961, is the first full-fledged Department of Music in Nigeria. From the beginning, the department introduced what is called a "bi-musical" programme which placed the teaching of Western and African music at par. In 1965 the department graduated its first set of four music students. In 1988 it started postgraduate programme with specialization in music education, music theory and composition and African music. The Nigerian civil war of 1967-1970 disrupted the academic growth of the department. All the instructional materials and musical instruments and equipment were lost or destroyed. In spite of efforts made since the end of the war, the department has not completely recovered from the ravages of the war nor has it received deserving attention for purposes of rehabilitating it adequately. Nevertheless, trickling resources over the years have been properly managed to keep the department in shape and functioning.
The administrative structure of the department has the Head of Department at the apex. The Academic Board of the department that sits at least once a month, except when there is urgent matter that warrants emergency Departmental Board meeting, moderates his functions and duties. The departmental secretary, who is answerable to the Head of the department, handles the day-to-day departmental administrative activities. A team of secretarial and non-academic staff supports him. The diagram below clarifies this.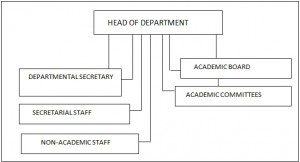 The Head of the Department runs the department on the priority decisions of the Academic Board. The Board is consulted regularly for input and decisions on pressing matters. The Head may take administrative action on behalf of the Board when the need arises but would still present the matter to the Board for ratification. In addition, there are departmental committees set up to handle specific matters in details and report to the HOD who in turn takes them to the Board for deliberation and decisions. Individual opinion of staff members is not ignored. Collective opinion of students is also not ignored in departmental decisions.
The department is well disposed to staff development as a matter of priority for academic growth. As such, the department supports staff going on study leave, conferences and workshops. Staff promotion is on the priority list of departmental matters. Cases for promotion are handled promptly by the departmental Appraisals Committee, within the stipulated time, following the University Yellow and White Books, for appropriate recommendation(s).